Your visiter #
To hit this page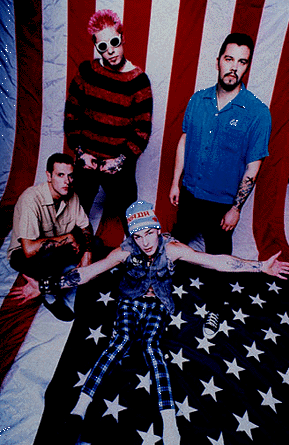 This bio was taken from Wikipedia

Personal life
Tim was born in Oakland, November 25 in 1966, son to an alcoholic father and hardworking mother, and is the youngest of three brothers. Their family was really poor, so growing up as a kid, it was hard for Tim. He grew up in a broken home and so he had his records of bands like The Clash and The Ramones that Tim treasured.

For a long time, Tim was very active in the Berkeley scene that grew up around 924 Gilman Street. He showcased his other artistic talents and created artwork for the INSAINTS logo.

Brody
Tim met his now ex-wife Brody Dalle of The Distillers on tour when she was playing in her band Sourpuss. Although Tim was considerably older than her and Dalle had lied about her age (she was 16), the two began dating and after two years were married. Dalle moved from her home in Melbourne to be with her husband. It is said that the two were suffering for a while and even seeking marriage therapy when Dalle called it off over the phone and issued a divorce in 2003. Soon after, photographs of Brody kissing Queens of the Stone Age frontman Josh Homme were published in Rolling Stone Magazine. Armstrong, who claims he knew nothing of Dalle's relationship with Homme, said he broke down when he saw the photos. Dalle and Homme married after the birth of their daughter, Camille Harley Homme in 2006. Armstrong has accused Dalle and Homme of adultery, and Homme received a series of death threats from Armstrong's fans. The conflict has divided L.A.'s punk rock microcosm.

Pre-Rancid
As a child, Tim met one of his best friends, Matt Freeman (current bass player for Rancid) playing Little League Baseball in California at age 5. Tim and Matt grew up together in Albany, California and as a young punk in high school, Tim's favorite band was the Clash. Tim quotes in 'Maximum Rancid - The Unauthorized Biography Of Rancid', that " If it wasn't for the Ramones, Rancid would have never become a band." Tim and Lars Frederiksen play with the Ramones in their documentary, We're Outta Here. He was in the punk/ska band Operation Ivy from their beginning in 1987 under the nickname "Lint". Operation Ivy continued until its demise in 1989. He then founded two relatively unsuccessful bands called the Dance Hall Crashers and Downfall but later went on to greater fame with the very successful Rancid, founded in 1991. During time in between Operation Ivy and Rancid, Tim suffered from alcoholism, heroin addiction, and eventually homelessness.[1] Freeman suggested the two start a band together in hopes of curbing Armstrong from his habits and they soon began writing songs that would appear on Rancid's first album.