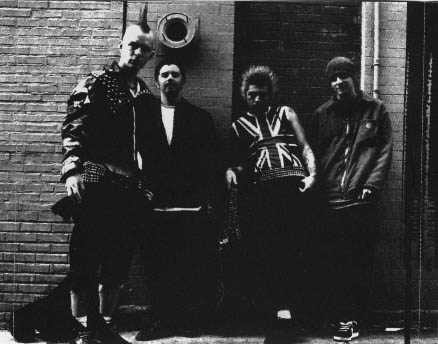 1.Both Tim and Brett Are Left Handed.

2.Lars is A Girl Scout Den Mother for the Girl Scouts in Berkeley.

3.Brett Gurewitz(President/Owner of Epitaph) was a former guitarist for Bad Religion.

4.Let's Go was recorded and mixed in 5 Days.

5.Billie Joe of Greenday was in Rancid at one time,But only played one show with them.

6.Tim and Matt have been friends for around 24 years,They've known each other since they were 5 years old.They Played in the same Little League and went to the same high school and were in all the same bands.

7.The Song "Journey To The End Of The East Bay" is about the demise of Operation Ivy.

8.Tim dosen't have a drivers license.

9.Rancid used to practice at Gilman street for free but they had to clean the toilets after Gilman Street shows.

10.Rancid has put together a side project called Shaken' 69 featuring ex Opivy drummer Dave Mello,Paul Jackson and Eric Dinn of the Uptones,Lars Nylander of Skankin Pickle and Mike Park on Horns.

11.Tim and Billie Joe Armstrong are NOT! related they are just very good friends.

12.RANCiD recorded there first 7" for Lookout! Records and they also did one for Fat Wreck Chords.

13.Tim Has Dsylexia.

14.Tim Sings Backup on "Television" By Bad Religion.

15.Lars Has Produced CD's For Swinging Utters.

16.Tim was a roadie for M.D.C,when Matt Played bass for them.

17.Jesse Michaels has drawn some art work for RANCiD.

18.On the artist(Do I dare call her that?) Pink's newest album she says her biggest creative inspiration was Tim Armstrong. Wait, what? That's right Tim was responsible for writing over half her songs...whoa..


If you'd like to read a story Tim tells

Thanks to the dude at http://www.terra-link.com/jaded/rancid.htm